Looking for flooring that combines the look and feel of solid timber with the best technical aspects of luxury vinyl planks? Look no further than hybrid flooring!
This cutting-edge flooring lets you enjoy the appearance of natural timber without the cost and maintenance.
What Is Hybrid Flooring?
The Hybrid flooring is engineered flooring with vinyl and sand stone core composite and acoustic underlay backing, and the main advantages including water proof, higher stability and more durable click system Hybrid flooring consists of several layers:
Attached Cork Backing – Some designs include a pre-adhered acoustic backing to deliver exceptional acoustics and comfort underfoot (it also serves to decrease installation costs)
Rigid Inner Core – A cutting-edge layer featuring a limestone composite core board that is designed to be waterproof and stable against extreme temperature changes
Design Layer – A decorative layer designed to match the realistic textures and styles of authentic timber
Wear Layer – A UV coated layer to provide durability and resiliency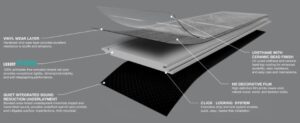 How do you decide if hybrid flooring is the perfect choice for you? Hybrid flooring is versatile and has a range of advantages that are not available in other flooring options such as timber, laminate or vinyl. Check out the benefits of hybrid flooring below.
Durability : Hybrid has superior wear resulting in long wear for both residential and commercial applications, especially when looked after properly. With its rigid core technology, hybrid floors are manufactured to be resistant to UV light, stains, dents, and scratches, making them an ideal option for your busy household or business. You can feel confident that your flooring will handle high foot traffic, adventurous playtimes and is extremely pet-friendly.
Waterproof : One of hybrid flooring's top advantages is its waterproof nature. In fact, you could immerse a plank of hybrid flooring in water for a week or more without the risk of it swelling. With a quick wipe down, it would be unaffected. This feature makes it particularly well suited for rooms subjected to high levels of moisture or high chances of spills such as laundries, bathrooms, kitchens, dining rooms, and entryways. It is also excellent for commercial applications or areas of your home that experience high traffic.
Well-Suited for the Weather Extremes of Australia : The multi-layered construction of hybrid flooring means it is well suited to Australia's climate, including harsh UV rays and temperature changes. In the past, other flooring types were susceptible to expansion and contraction that could result in swelling or uneven surfaces. The hybrid flooring planks that we stock are designed to combat these issues and are able to withstand temperature changes with minimal expansion and contraction.
Sound : While some floors generate a hollow sound when walked on, hybrid flooring's rigid core technology helps produce a solid step with less sound. Adding an acoustic underlayment makes steps even lighter.
Aesthetic Appeal Using special technology to mimic the edges, variations, and textures found in solid timber, hybrid flooring delivers a stunning appearance similar to traditional hardwood.
Comfort: Its thick rigid core construction provides a dense, comfortable walking surface. Choosing a floor with an attached underlayment or adding an underlayment will offer further cushioning.
Easy to clean: A damp mop combined with regular sweeping, spot cleaning and vacuuming is all you need to keep your brand new hybrid floor clean and in great condition for years to come.
Why FND
-R&D capability, we are able to develop customized designs based on real engineered floor or natural stone & tiles.
-Complete testing chamber in factory, we are able to do most of the testing for LVT. besides, we have a temperature controlled installation testing room can test the installation performance between -5℃-50℃.
-We have long term cooperation with SGS as third party chamber which will test the following from time to time:Anti-bacterial, Anti-fungi test, Reach, RoHs, Wear resistance, Chemical resistance, IIC&, STC, sound reduction, Flammability test, Dimensional test etc.